Recently more and more apps come for Android and iPhone/iPad that are promoted as the best tools to get six pack abs. Yes, there are some rather useful ones, but most of them are crappy which are far less efficient as they are said.
On the other hand, a good application can help a lot not to neglect ab workouts. The best ones provide a wide variety of abdominal exercises, various levels, and they also come with instructional videos. I think, they are particularly suitable for beginners.
To tell the truth, I do not use any apps for abs training these days since I have my own system. The only fitness application I have on my phone is a premium boxing app, Precision Boxing Coach, which is almost as good as a personal trainer.
Below I have collected the best abs apps which are rated well, at least with 4 stars or more, and they have downloaded at least 1K times. If you know others and you are signed up for list.ly you can add more, but keep in mind that I will check out the submissions. I want to create a useful list.
The applications here can be downloaded from Google Play or iTunes. Most of them are available on both platforms.
Jun 23, 2014 - itunes.apple.com -

27594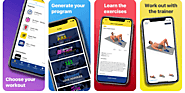 Why over 8.3 Million people use "Abs Workout" every day to build the body they desire?
Now you can Get Your Six Pack at home in just 10 minutes a day without any equipment, weights or large bills at gym.
Easy or hard, beginner or pro - the training video will guide you hand-in-hand throughout the whole workout.
10 Workouts (easy, medium or hard available)
HD video exercises with instructions
6 virtual trainers - choose the one you like
Empowering music along the way or select your own from iPod or Spotify.
Calendar alerts - to keep you organized (syncs with iCloud)
Available in 13 languages
Use it offline too
No equipment or weights required.
Instructional Video for each exercise:
Correct movement
Correct breathing
Muscles involved
Common mistakes to avoid
Jun 23, 2014 - itunes.apple.com -

14772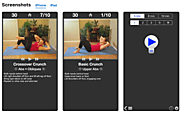 Your own personal trainer wherever you are!
FEATURES:
• Two different 5 to 10 minute ab-sculpting workouts
• Great for both men and women
• Video showing how to do each exercise
• Developed by a certified personal trainer
• On-screen instructions and timer
• No internet required to do the workouts
Daily Ab Workout is a great 5 to 10 minute daily ab routine for men and women that steps you through ten of the best ab-sculpting exercises you can do in the comfort of your own home.
These proven exercises, demonstrated by a certified personal trainer, target all major abdominal muscles. Spending just minutes a day can strengthen your core and tone your abs.
The routine's simple interface, complete with video and timer, allows you to easily follow along and understand each exercise.
Jun 23, 2014 - itunes.apple.com -

15203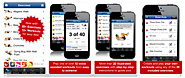 The #1 App To Lose Belly Fat (Used By Millions)
MEN: Lose your belly fat and carve out ripped six pack abs.
WOMEN: Lose your stubborn tummy fat and get a tight, sexy stomach.
This unique app TALKS you through all the right exercises to lose belly fat.
*Features: *
Easy abdominal exercises with steps & animations
Pre-set workouts with 4 difficulty levels
Design your own custom workouts
Your own personal e-trainer (via email)
In-app trainer voice!
Jun 23, 2014 - itunes.apple.com -

13150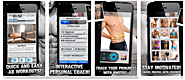 Over 1,000,000 downloads worldwide and counting.
*Features *
8 Beginner Exercises Free
Pre-Set workouts with 3 difficulty settings
Personal Coach with Voice Instructions
High Quality HD Videos
Developed by a Certified Personal Trainer
Ab Workout X is the only app you'll need to get a Six Pack and Burn that Belly Fat.
We have the most user-friendly interface that allows you to follow along and do an ab workout at your level and pace.
Our proven system allows you to strengthen your core and abdominal muscles in just minutes per day.
Jun 23, 2014 - itunes.apple.com -

13511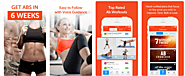 This is the FREE version of the ab series of Instant Fitness.
From the creators of Fitness Buddy: the top weight-training and fitness application in the world
Featured on ESPN and Details Magazine
Selected by Gizmodo as one of the best iPhone apps ever.
Highly rated by Lifehacker as the most comprehensive fitness database
And praised by many other reputable publications.
Take charge and unleash the real you.
Working out has never been this easy and convenient at home or on the go. Simply press play and achieve the summer-ready body you have always wanted without leaving the comfort of your home. For the busy traveler, resume your fitness regimen at your hotel without skipping a beat.
Ab Trainer is the groundbreaking solution to bring personal training into your home and hotel room. It has become the go-to application to work out without going to the gym and without equipment.
There's no longer the need to devote your precious time planning your workouts. Tell Ab Trainer which workout you want to do and it will lead you through our curated workouts with voice cues and step-by-step animations.
MAJOR FEATURES
Tons of Unique Exercises
Comprehensive exercises for bodyweight only, dumbbells and resistance bands
Exercise photos, videos and animations (retina display resolution)
Detailed exercise instructions and muscle categorizations
Favorite your exercises
Curated Workout Circuits
Carefully tailored workouts that can be done at home
Quick workouts that fits perfectly into your busy schedule
Routines specific to you and your equipment
User-friendly Interface
Automatic workout logging (no need to manually log your data ever again!)
See your finished workouts in your timeline or calendar
Find your favorite exercises with the search bar
Jun 23, 2014 - itunes.apple.com -

11300
Awesome fitness app that will get you Amazing Abs in less than two weeks! Sounds too easy? With our app, it really is! But be careful, our workouts are so fun and enjoyable that it can lead to the healthiest exercising addiction ever!
FEATURES:
•Informative overview of abs exercising
•Three effective HD video workouts for different fitness levels, so it will never get boring or too easy*
•Full descriptions for each exercise to get the maximum benefit out of workouts
•Endless fun of sports, as you can work out while listening your own music from iTunes!
Jun 23, 2014 - play.google.com -

12604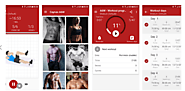 Application contains workout schedule to perform in 42 days - no shortcuts - known as Aerobic Weider Six (Aerobic Six of Weider).
Daily ab workout contains 6 exercises to perform everyday to get perfect 6pack.
Forget about push ups, sit ups, pull ups, squats etc. No need to go to gym. You can do this 6 pack abs workout at home.
Text to speech engine is used during 6 pack workout.
Jun 23, 2014 - play.google.com -

13751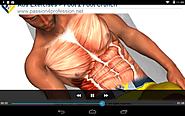 Finally, even your portable device can provide the most famous Abs workouts in the world so you can exercise where, how and when you want!
With over 50,000,000 views (cumulative in all languages) on YouTube, everyone appreciates Passion4Profession's workouts for their simplicity, innovation and real effectiveness.
Contents of the application:
Optimum scheduling for this determined type of training that will show you how many times a week, and for how many weeks, you have to do it to move on to the next level.
List of the single exercises that make up the workout. Each exercise is illustrated with a video.
Original video of the workout plus any other alternative versions available (such as the version without music).
Free workout updates, i.e., you can download any new versions or variations of the workout by simply updating the application. .
Jun 23, 2014 - play.google.com -

11520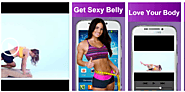 Now available 7' and 10' tablets
Ab Workouts– Belly Exercises
Bikini ABS – Belly Exercises for flat tummy and slim stomach.
With these Abs workouts you can train your belly whenever you want and wherever you want.
Only the best belly exercises for flat tummy and slim stomach. Quick and easy to train and you don't have to use any gym equipment.
Your belly loves our Bikini Abs workouts. It is ideal for women who want their stomach to be shape all year around.
Our Bikini Ab workouts are simple to use and your body stays in good health all the time.
Workouts by Certified Personal Trainers.
Did you find these apps useful? Share with your friends.