Last Updated on
Have you done your best to get rid of that fat on your stomach? But nothing seems to work? It is time to try something new.
There is nothing more disturbing when you have trained your abs like a mad. You feel they are strong, but that layer of fat hides your six packs. What is the solution to get rid of it?
The answer is the high-intensity interval training, the HIIT. This type of workout will help you to get rid of that fat for sure. HIIT is not going to be as easy as doing three sets of crunches and leg lifts, but it is a killer fat burner.
An HIIT abs workout build up from 3 or more types of exercises that should be done for a given time one after another. After a circle of tasks you have a short rest and then repeat the entire circuit again. So, it is intensive, but that is how it burns the fat.
Below I have collected some HIIT workouts for abs. You can find easier and harder ones to get the plan that is optimal for your fitness level.

1
Jump Rope Hiit Training for Abs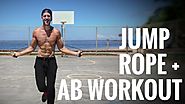 My favorite equipment for cardio is the jump rope, and I usually combine with my abs workout. This video is a good example how to do it. Jump rope for 30 sec and then do one exercise for abs with 10 seconds rest. In this plan, there are 4 combinations. Repeat the entire routine for 3-5 times.
2
High-Intensity Interval Training Cardio & Abs
With the help of this routine, you can not only train your entire core but also develop your cardio thanks to the high knees exercise. You can burn 150 - 250 calories with the help of this 20-minute routine.
3
Full Body High-Intensity Workout At Home
This routine is not for beginners as well. Even if this is a full body training, several exercises are added to focus on the abs. It comes with bodyweight and dumbbells exercises and lasts for 1 hour. Not easy, but it will surely support your weight loss and develop your endurance.
4
22-Minute HIIT for Abs & Oblique
This is a medium level routine that trains all parts of your core muscles. You should do each exercise for 30 seconds followed by 15 seconds rest. Try to repeat the entire circuit twice or free times depending on your fitness level.
Credit: http://jillconyers.com
5
Killer Quick High Intensity Ab Workout
If you have no time for a workout, you can quickly train your midsection with this program. You do not need any equipment, just make each of the moves for 30 seconds with 15 sec rest. Make at least three rounds.
This is the HIIT for stomach fat that I do on those days when I have no time to work out. This plan is quick and efficient working my total body thanks to the burpees, push ups, etc. Also, there are many great exercises for abs such the bicycle crunches, leg lifts, plank, etc. There are 10 activities in total that should be done for 40 seconds with a 20 sec rest.
This routine consists 4 supersets. Each superset should be done for 4 times before moving to the next one. I love it because abdominal muscles focused exercises are combined with powerful cardio ones such as jump rope, running, etc.
Credit: http://glistenfit.com/
This is a tough one, not just because you should use dumbbells but you should make the moves for 1 minute with only a 10 seconds rest. This workout is 30 minutes long so get ready for something really hard. You don't have to use heavy hand weights, though.
Are you bored with doing the same abdominal conditioning all the time? You will love this routine! You will learn barbell exercises from this video you may have never done before. I have tried them, and I felt how efficiently they engage all parts of the core. I make an HIIT for belly fat from it doing each of the exercises for 60 seconds without rest. Then, I have 1-minute rest and the circle again for 2-3 times. It also excellent to develop your strength.
10
12 Minute Upper Body & Abs
This program will not only shape your midsection but also your arms, back, chest and shoulders. You do not need any equipment since only bodyweight moves are done. Also, it includes punches that help you to release stress.
11
30 minute HIIT Core Workout
An advanced cardio and core HIIT routine to strengthen all your muscle groups and burn fat.
15 minute core workout with the most beneficial best HIIT exercises for abs for strong and lean midsection.
Conclusion
I think, from the list above you found a plan that is suitable for you. Also, you learned how to create your own HIIT abs workout routine. Just make your workouts intensive to keep your heart rate up, but pay attention to perform the exercises correctly. And do not forget to warm up and cool down after. To get the best results, have a healthy diet which will support your diet and do one of these workouts at least 3 times a week. Also, I recommended to have other strength training exercises as well to build muscles which will help to increase your metabolism.
Related Reading
Did you find the best HIIT ab ripping routine for you? Share with your friends.